Dining Room
Family Living Room
Kitchen
Other
Family Room with Wood Laminate Flooring
Office with Oak Wood Laminate Flooring
Dining Room with Wood Laminate Flooring
Living Room with Oak Laminate Flooring
Dining Room with Oak Wood Laminate Flooring
Dining Room with Oak Wood Laminate Flooring
Wood Laminate Kitchen Flooring
Dining Room with Oak Wood Laminate Flooring
Kitchen with Hickory Wood Laminate Flooring
Bedroom with Laminate Flooring
Kitchen with Wood Laminate Floors
Living Room with Oak Wood Laminate Flooring
Foyer with Laminate Flooring
Bathroom with Laminate Flooring
Kitchen with Oak Wood Laminate Flooring
Living Room with Wood Laminate Flooring
Wood Laminate Details
Carpets Today's® durable Wood Laminate Flooring features realistic wood visuals and textures. Learn More
Laminate Flooring
Laminate flooring is a popular hardwood alternative choice for budget-conscious homeowners. Laminate wood floors replicate the look of hardwood species, grains, coloring, and tight tongue-and-groove locking systems to create the realistic appearance and feel of solid hardwood floors.
Some of the advantages of choosing laminate flooring for your home are:
Durability: Laminate floors are durable while being both pet-friendly and family-friendly in high-traffic areas.
Tough Finish Layer: The top layer is treated to protect the laminate floor from fading, stains, and wear.
Cost Effective: Laminate floors are a great hardwood alternative for budget-conscious homeowners.
Why You Should See Laminate Floor Samples at Home
The color and richness of laminate floor samples will look different in your home than they do in a home improvement store. The harsh lighting that is found in most home improvement stores is very different from the natural light of your home. Store lighting is typically a harsh fluorescent, which can alter the color and appearance of laminate flooring.
For this reason, Carpets Today ® brings samples right to your home so you won't have to guess what your laminate floor color will look like in your home's lighting. Here's an example of the difference lighting can make: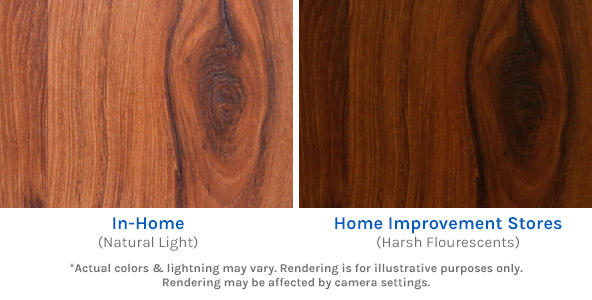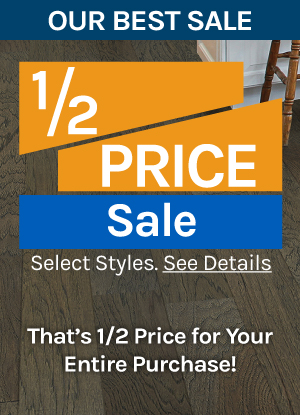 Sandy H
I was very pleased with the installers. They arrived on time and did a professional and timely job of getting my floors down.
Orlando, Florida
Traci
From scheduling the appt to the sales rep coming on time and working within my budget, everything went very smoothly.
Amy Clayton
The product that was purchased was an excellent and beautiful laminate.It really made my den look great. I would certainly recommend them to my friends and family.