Our Pricing Promise
Carpets Today® doesn't promote online "sales" or "prices" because we want you to know what you're truly going to spend.
You simply cannot not get an accurate price until someone visits your home.
Carpets Today® understands the cost of your project is a key factor. Our in-home estimates provide you peace of mind about what your true installation will cost. Beware of competitors who try to advertise deep discounts and free rooms and even more fine print.
Many of our competitors might provide estimates in-store, online, or even over the phone. They are simply telling you what they hope you may want to hear. Carpets Today in-home estimates will inform you about what you actually need to know with a guaranteed price.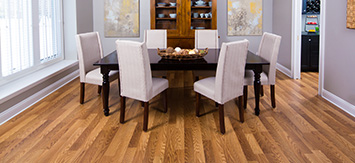 Carpets Today vs Home Improvement Stores
Beware the cost per square foot that you see advertised at the home improvement store. Their prices won't even come close to providing you the true and total cost of your flooring installation.
Why Doesn't Carpets Today Show Pricing Online?
If you receive a price without someone visiting your home, you're not getting the full story. Here's Why: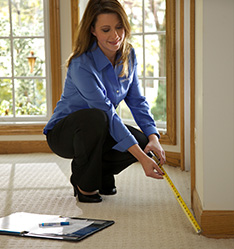 Room Measurement

It is almost impossible to give an accurate quote without seeing the rooms where installation will take place, even with room measurements. Be wary of any company willing to give a price without having been in your home. An accurate price requires professional attention - that means a visit to your home to take measurements - and an understanding of the flooring to be installed and its requirements.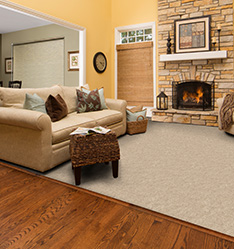 Every Room is Unique

Price cannot be determined using simple price per square foot calculations, which is the price many of our competitors will give you - length and width are only one piece to the total price. Simply measuring the dimensions of a room will probably not give you an accurate measurement of the amount of flooring you'll need to complete the job.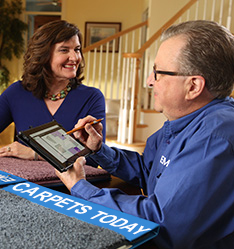 Comparing Apples to Oranges

Home improvement stores show prices on their flooring, but those prices generally won't include all that's needed to complete your job, such as:
Installation Labor

Materials

Padding

Underlayment

Furniture Moving

Floor Prep

Removal / Haul Away

Stair Labor

Transitions

Base Moldings
Home Characteristics
The amount of product (e.g. carpet, hardwood, laminate, tile, vinyl) needed varies based on the unique characteristics of your home:

Where Carpet Seams Meet
Placement of the seams is very important. Seams need to be carefully positioned so they don't end up in traffic flow areas. Otherwise, you will end up with seams that fray.

How Floors Transition Between Rooms
Carpet, Hardwood, Laminate, Tile, and Vinyl need to run the same way. If you "piece" in Carpet, texture and pattern will look different across rooms. Flooring boards need to flow between rooms or it will look like rooms were completed at separate times. The same goes for Tile and Vinyl. If rooms touch, the way the product is installed needs to match up. This can result in needing more flooring, and higher cost, then what simple 'length times width' calculations would otherwise indicate.

Wall Angles
Not all rooms are easy-to-measure perfect squares or rectangles. Even slightly angled walls require special consideration and can change the requirements and costs, based on the unique room's shape.

Columns & Cutouts
When a column or cutout is included in your room, it alters the way carpeting or flooring needs to be installed. It's not always as simple as going around the column or adding in the cutout.

Closets & Hallways
Often overlooked in simple room size measurements, the direction of the carpet or flooring must also follow in the same direction as the room itself. These are extensions of the main rooms and should be installed in the same direction to avoid color differences.

Width of the Product
Carpet is made in fixed widths, while Hardwood and Tile Flooring are bundled into cartons - This might mean you'll need more product than what your room measurements display to ensure the end result looks beautiful and professional - just another reason why a professional visit to your home is essential. It's easy to underestimate how much product is needed.