Solid Cherry Hardwood Flooring from Carpets Today® is popular because of its warm color and charming circular graining. As its name implies, Cherry Flooring is naturally reddish brown in color, but it is known for its smooth texture that can accept stain well. With time, the coloration can evolve to a deeper hue, which is a sought after quality of the wood. People choose Cherry Wood because it has a warmth and character that matches both traditional and contemporary decors. See Cherry Flooring Considerations for more information about special features of Cherry Flooring.
lightbeige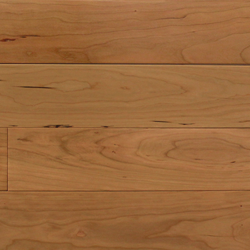 Cherry Hardwood Flooring features rich reddish-brown coloration and distinct grain patterns that distinguish it from other domestic Flooring species. Over time, Cherry Flooring can darken with exposure to light. The wood has a fine, sleek texture and a circular grain pattern. A medium or dark stain is often applied to this fine-grained wood to accentuate its natural reddish-brown hue. When stained, this subtle grain provides a very evenly toned finish. Cherry Flooring has a 995 rating on the Janka Hardness Scale.
Brazilian Cherry, or Jatoba, is not the same as domestic Cherry Flooring. Learn about Brazilian Cherry (Jatoba) Hardwood Flooring in our Exotic Woods section.
Janka Scale
| | |
| --- | --- |
| Species | Janka Hardness (pounds-force) |
| Oak | 1290 |
| Maple | 1450 |
| Hickory | 1820 |
| Cherry | 995 |
| Exotic Wood | 2350 |
| Bamboo & Cork | 2700 to 2900 |
The Janka Hardness Scale is measurement of how various types of woods resist denting and wear. The test assesses the force necessary to embed a .444-inch steel ball into wood to half of the ball's diameter. It is a flooring industry standard for evaluating how well various wood species can tolerate denting and normal wear.
Empire offers Cherry Flooring in Solid Hardwood construction. As the name implies, it's a solid piece of Cherry wood all the way through - from top to bottom. The wood is protected from stains and abrasions with a finish that is applied to the top. Solid Hardwood Cherry Flooring cannot be installed over concrete slabs because it needs to be nailed down onto a sub-floor.
Cherry Flooring can transform your home, but there's more to consider than the species of wood. Other factors that contribute to the overall look of your floor include:
Plank Width: We offer Cherry Flooring in 4" and 5" in plank widths. These wider planks are a popular look for all decors, from modern to rustic.
Smooth: Smooth finish is available in many gloss levels and has a traditional appearance that is cleaner in look and style.
Square Edges: Our Cherry Flooring has beveled edges that form a micro "V" grove on the sides of the planks. The beveled edges create a small groove between planks. The result is a look that makes each plank have a slight variation in texture where they meet once installed.
Can be Used In

Floor Care & Maintenance Tips
Use felt pads to help protect your Cherry Flooring from furniture wear.
Repair minor damage using color fill or color sealant.
Rearrange furniture and rugs to ensure even exposure to sunlight and to maintain consistent color across your Cherry Flooring.
Place protective mats at doorways to help keep dirt and moisture off your floor:
A hard surface rug underlayment may help reduce slips.