Maple Hardwood Flooring offered by Carpets Today® is naturally light and cream in color with delicate bands of brown tones that complete the look. Its tight, uniform grain gives this Wood Floor type a homogenous appearance making it a popular choice for contemporary designs. Stains ranging from creamy white to reddish brown allow Maple wood to work well with existing cabinets and wood work in your home. Your Sales Representative can show you samples of Maple Floors during your appointment, plus you can learn more about Maple Hardwood Flooring considerations.
neutralwhite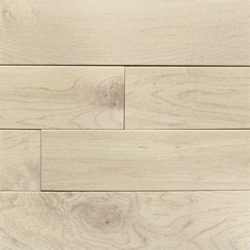 Maple Hardwood Flooring is a naturally light-colored wood that can range from white to reddish brown in color with a golden hue. The lighter tone of the wood allows stains to appear vibrant and bold. Maple Flooring has a fine, subtle grain pattern, meaning that the contrast between light and dark areas is less distinct and the grains are usually straighter. Maple has a rating of 1450 on the Janka Hardness Scale.
Janka Scale
| | |
| --- | --- |
| Species | Janka Hardness (pounds-force) |
| Oak | 1290 |
| Maple | 1450 |
| Hickory | 1820 |
| Cherry | 995 |
| Exotic Wood | 2350 |
| Bamboo & Cork | 2700 to 2900 |
The Janka Hardness Scale is measurement of how various types of woods resist denting and wear. The test assesses the force necessary to embed a .444-inch steel ball into wood to half of the ball's diameter. It is a flooring industry standard for evaluating how well various wood species can tolerate denting and normal wear.
Maple Flooring from Empire® is offered in Solid Hardwood construction. This means that each Flooring plank is a solid piece of 100% Maple wood from top to bottom. The wood is finished with a protective layer that helps protect the floor from stains and abrasions. Maple Solid Hardwood Flooring is installed by being nailed to a wood subfloor, which means it can be installed over concrete slabs.
The overall look of Maple Flooring can be affected by some of the following aesthetic considerations:
Plank Width: Our Maple Flooring is offered in two plank widths – 4" and 5". Wider planks provide an open look and work well with almost any home design, from contemporary to country.
Hand Scraped: Hand-scraped Maple Flooring evokes traditional craftsmanship. The surface is distressed to introduce a uniquely textured surface. This produces a rustic-looking style of Flooring.
Smooth: Smooth finishes may be available in many gloss levels and have a traditional appearance that is cleaner in look and style.
Beveled Edges: A deep or micro v-groove appears on two or four sides of our Maple Flooring planks. This enhances the beauty of each plank and provides a one-of-a-kind look.
Can be Used In

Floor Care & Maintenance Tips
Use felt pads to help protect your Maple Flooring from furniture wear.
Repair minor damage using color fill or color sealant.
Rearrange furniture and rugs to ensure even exposure to sunlight and to maintain consistent color across your Maple Flooring.
Place protective mats at doorways to help keep dirt and moisture off your floor:

A hard-surface rug underlayment may help reduce slips.