Give your home a designer look and feel with beautiful Exotic Hardwood Flooring from Carpets Today®. As its name suggests, wood for our collection comes from places across the world – South America, Asia and Africa. We've chosen styles for our collection that are characterized by vibrant colors, unique grains and striking looks. Exotic Wood Flooring Options are not limited to eclectic-inspired décor. It brings an air of sophistication and can transform any space into a beautiful, inviting room. Learn more about Exotic Hardwood Floor considerations, and choose from woods such as Brazilian Cherry (Jatoba), Acacia and Sapele.
mediumbrown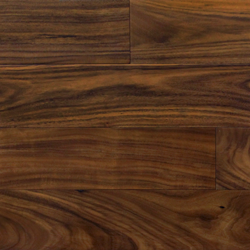 Can be Used In

Floor Care & Maintenance Tips
Use felt pads to help protect your Cherry Flooring from furniture wear.
Repair minor damage using color fill or color sealant.
Rearrange furniture and rugs to ensure even exposure to sunlight and to maintain consistent color across your Cherry Flooring.
Place protective mats at doorways to help keep dirt and moisture off your floor:
A hard surface rug underlayment may help reduce slips.